Thursday, September 16, 2010
Hey everybody!!!!!

After a very brief hiatus, SIDNEY'S BACK!!!!!!!!!!!!!!!!!!!!!!!!!!!!! Be excited.

I don't know if I still have my quality blogger skills, but I'm sure I do.

First of all, I want to say that I will not be talking about any Maverick born after the year 1990... I am before their time and it's inappropriate. If I do mention them, it will be in a nurturing (motherly) way. [Don't read into that the wrong way...]

*ahem* Anyway, I have some good ideas and I am excited for my future. (I've been working on my personal statement lately and it's just sinking in...)

I've decided I am going to uncensor myself--in other words, I'm goin' all out, folks.

Check back regularly, because I hope to be posting regularly, but I might not, but right now I'm going to say that I am, and hopefully you'll get a kick out of it.

In the meantime, go back and look at the old posts to refamiliarize yourself/for the n00bs out there. Here's some links to the posts I'm most proud of.

"Future of the Mavs" - 2.22.08

First Video starring Trevor Bruess - 3.2.08

Second Video starring Kael Mouillierat and Mike Zacharias - 4.1.08

Halloween Post - 10.29.10

Third Video starring Kael Mouillierat and Mike Zacharias - 2.29.10

Alright, that's all I've got for now. CHECK BACK SOON!
Luv, Sidney ♥


10:56 PM
8 commented
Friday, July 17, 2009
The Capitals' Development Camp is going on this week and Trevor Bruess is one of the guys at the camp. So far, Trevor's been showing up a lot in the videos and events from the camp. He's doing "tweets" for the CAPITALS' TWITTER and he's featured in a few videos. Joe Finley gave a SCOUTING REPORT ON TREVOR and there is a CUTE INTERVIEW OF TREVOR UP. I recommend checking it all out, especially the little interview with him. :) And of course, I'd like to wish Trevor Bruess good look at camp! :)

Also, the Capitals people talked to Trevor today. LISTEN HERE.
Luv, Sidney ♥


11:46 AM
1 commented
Wednesday, July 8, 2009
So I thought that maybe since Channing got invited to the Flyers Prospect Camp (which by the day, kind of sort of officially started today--I think yesterday they did something, but the main thing started today) that maybe other Mavericks are also/did also/whatever attend a team's prospect camp.

I looked at the St. Louis Blues' camp and discovered that Andy Sackrison is (of course) attending, along with Rylan Galiardi! (link HERE) that's pretty exciting for Galiardi! (And Sackrison too, of course~) Good luck guys!

I also checked the Buffalo Sabre's site and Justin Jokinen is in attendance there. He's the only Mav there, though. So good luck to him too. :)

And who knows, I probably could have missed other Mavs at prospect camps! I tried to check around some of my other favorite teams (and a few of my not-so favorite teams...) to see if they have rosters up, but some sites were hard to navigate (I had to go through Buffalo's Twitter to find the link to their roster! The Blues had a nice printable roster though, so I give that a thumbs up!) so it was hard to tell. I don't think anybody was going to be at the Wild's camp, and the Washington Capital's roster hasn't been put up yet. But anyway, I apologize if I missed anybody! I'll keep my eyes open for others.

In the meantime, good luck to everybody currently or futurely (apparently that's not a word...) involved in a prospect camp! :)
Luv, Sidney ♥


9:35 PM
0 commented
Monday, July 6, 2009
So I was checking out information on the Flyers prospect camp this week (duh, what else would I be doing?) when I stumbled upon a very well-kept secret that the Mavericks' very own Channing Christopher Boe will be attending the camp, along with everybody's favorite ex-Maverick, now-Flyer, Jon Kalinski! ♥ ♥ ♥ (link HERE!)

This news pretty much made my day (and I'm assuming it made all of your days too?) because, hello, two great players who are/were affiliated with the Mavs in the great city of Philadelphia! (Well, I think technically they're going to be in New Jersey, but whatever)

I can't wait to creep around and find pictures of Channing with the Flying P logo on his jersey! (...and I mean that in a non-creepy kind of way, fyi)

Oh, and in case you didn't go to the link, Channing is listed as being #64 (opposite of Jon's #46, right?) and Jon is listed as being #37. (and in case anyone cares, Nodl is #15, not #14... but who would care. I mean, it's not like he played for the great mighty Mavericks... just saying...)

Well, that news was the highlight of my summer so far, and I hope Channing does super, super, super well because nothing would make me happier than if he signed with the Flyers someday. (and don't worry, Channing, you can leave before you graduate, because you don't have to be a college grad to become president! :D) So good luck Channing. And good luck Jon, too. :D
Luv, Sidney ♥


7:16 PM
0 commented
Monday, June 8, 2009
Hello everybody! I know it's been a loooong, looooooooong, looooooooooooooooooooooooooooooooooooooooooooooooong time since I posted, but I just made a new layout brought to you by a new, special guest artist. Ain't it purty? It took me waaaay longer than it should have to do the coding, but oh well. It's somethin' new, anyway. :)

Go Penguins! Go Wings! GO MAVS!
Luv, Sidney ♥


11:20 PM
1 commented
Thursday, February 12, 2009
I'm sure everybody read today's Free Press article about poor Channing and his injuries. Well, I found this video taken yesterday, I believe, and it just adds to that article... it's good to see the Mavs are doing what they can to help poor little Channing out.


Luv, Sidney ♥


7:55 PM
2 commented
Wednesday, February 4, 2009
Everybody's dear friend LGM has been on me all week to make a Channing post, and I told her that I was too crushed over what happened to Channing to even think clearly.

I could go into the politics of what happened (and have been all week to anybody who comments on the weekend's series) but just know that I saw what I call the attack on Channing with my very own two eyes and sat horror-struck for what seemed like hours as that Minnesota dude (read: GOON) beat up poor little defenseless Channing. And then I finally came to my senses and stood up and yelled at the refs to get that guy off of Channing, which they must have heard me, because they FINALLY dragged him off. And in conclusion, while I am psyched that the Mavs swept the gophers (I refuse to capitalize the word 'gopher'), a part of me felt like we lost... because we lost who is perhaps (and most likely) the most precious Maverick on the team.

And so, last night, I decided to make cookies in recognition of the one of the greatest assets to college hockey as a whole, Channing Christopher Boe. Which means, I spelled out Channing's name in cookie dough!:


Here is his name on the cookie-sheet!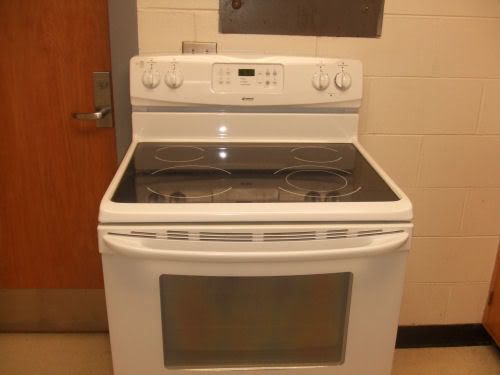 The oven that baked these beautiful cookies!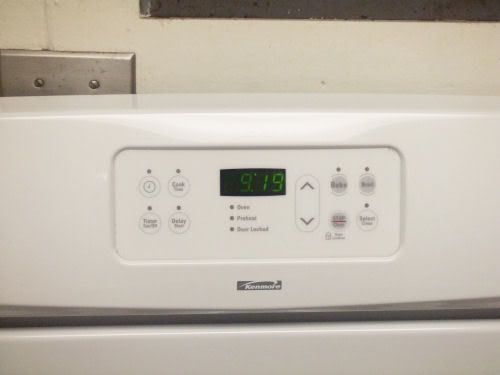 Awww Kael Mouillierat's number and Geoff Irwin's number! <3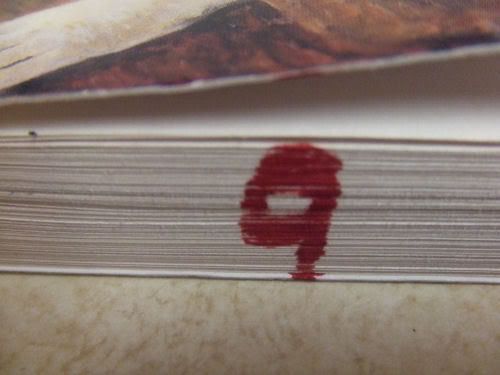 Speaking of Kael Mouillierat, look at the number on the book I'm reading! This isn't coincidence though... I planned it out so that all of my books are number 37 or number 28. If they didn't have a 37 or 28, I got a number 9, 46, or 23. I also think I have a number 19. :)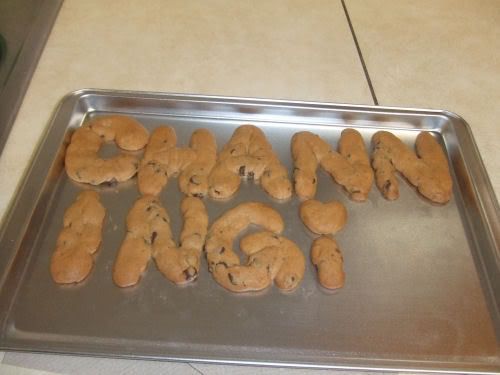 THEY'RE DONE!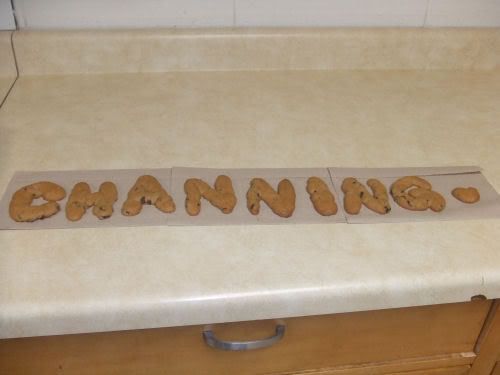 It was hard to get a picture... his name is so long!
It took me like five tries to get his name to fit into the frame...



I really wanted to send the cookies to Channing, but I don't know his address, so I ate them. They were good. Real good.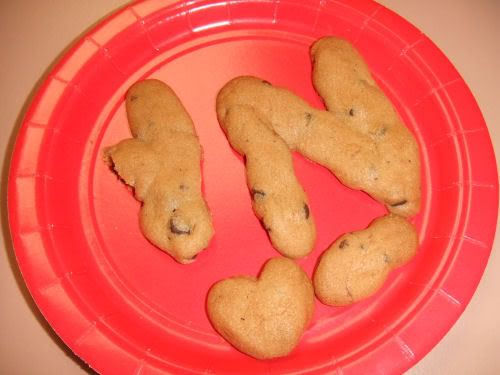 Anyway, I hope Channing is doing okay and I hope the guy that hurt him goes to jail with the possibility of no bail.

Luv,
Sidney ♥
Luv, Sidney ♥


4:45 PM
3 commented